Have you ever had to create a research presentation? If yes, you know how difficult it is to prepare an effective presentation that perfectly explains your research. Since it's a visual representation of your papers, a large chunk of its preparation goes into designing.
No one knows your research paper better than you. So, only you can create the presentation to communicate the core message perfectly. We've developed a practical, step-by-step guide to help you prepare a stellar research presentation.
Let's get started!
Table of Contents
What Is a Research Presentation?
Purpose of a Research Presentation
How To Prepare an Effective Research Presentation
Create a

stunning presentation

in less time
Hundreds of premade slides available
Add animation and interactivity to your slides
Choose from various presentation options
What Is a Research Presentation?
A research presentation is a visual representation of an individual's or organization's systematic investigation of a subject. It helps the presenter obtain feedback on their proposed research. For example, educational establishments require Higher Degree Research (HDR) students to present their research papers in a research presentation.
Purpose of a Research Presentation
The purpose of a research presentation is to share the findings with the world. When done well, it helps achieve significant levels of impact in front of groups of people. Delivering the research paper as a presentation also communicates the subject matter in powerful ways.
A beautifully designed research presentation should:
Explain the significance of your research.
Clearly state your findings and the method of analysis.
Get valuable feedback from others in your community to strengthen your research.
Make the audience learn more about your work or read your research paper.
How To Prepare an Effective Research Presentation
According to a recent survey, 79% of people agree that most presentations are boring. You should prepare your presentation in a way that attracts and persuades your audience while effectively sharing the information. Follow the steps below to do that.
Decide on Your Presentation's Purpose
Beginning the design process without deciding on the purpose of your presentation is like crawling in the dark without knowing the destination. You should first know the purpose of your presentation before creating it.
The purpose of a research presentation can be defending a dissertation, an academic job interview, a conference, asking for funding, and various others. The rest of the process will depend on the purpose of your presentation.
Look at these 25 different presentation examples to get inspiration and find the one that best fits your needs.
Know Your Audience
You probably wouldn't speak to your lecturer like you talk to your friends. Creating a presentation is the same—you need to tailor your presentation's design, tone and content to make it appropriate for your audience.
To do that, you need to establish who your audience is. Your audience could be:
Scientists/scholars in your field
Graduate and undergraduate students
Community members
Your target audience might be a mix of all of the above. In that case, it's better to have something for everyone. Once you know who your target audience is, ask yourself the following questions:
Why are they here?
What do they expect from your presentations?
Are they willing to participate?
What will keep them engaged?
What do you want them to do and what's their part in your presentation?
How do they prefer to receive information?
The answers to these questions will help you know your audience better and prepare your research presentation accordingly. Once you define your target audience, use these five traits of a highly engaging presentation to capture your audience's attention.
Create a Research Presentation Outline
Before crafting your presentation, it's crucial to create an outline. Your outline will act as your guide to put your information in order and ensure you touch on all your major points. Like other forms of academic writing, research presentations can be divided into several parts to make them more effective.
An outline helps guide you as you prepare your presentation as follows:
It enables you to organize your ideas
Presents your research in a logical format
Shows the relationships among slides in your presentation
Constructs an order overview of your presentation
Groups ideas into main points
Though there is no universal formula for a research presentation outline, here's an example of what the outline should look like:
Introduction and purpose
Background and context
Data and methodology
Descriptive data
Quantitative and qualitative analysis
Summary
Future Research
Learn more about presentation structure to keep your audience engaged. Watch the video below for a better understanding.
Limit the Amount of Text on Your Slides
One of the most important things people often overlook is the amount of text on their presentation slides. Since the audience will be listening and watching, putting up a slide with lots of words will make them focus on reading instead of listening. As a result, they'll miss out on any critical points you are making.
The simpler you make your slides, the more your audience will grasp the meaning and retain the critical information. Here are a few ways to limit the amount of text on your slides.
1. Use Only Crucial Text on the Slides
Without making your point clear immediately, you will struggle to keep your audience's attention. Too much text can make your slides look cluttered and overwhelm the audience. Cut out waffle words, limiting content to the essentials.
To avoid cognitive overload, combine text and images. Add animated graphics, icons, characters and gestures to bring your research presentation to life and capture your audience's attention.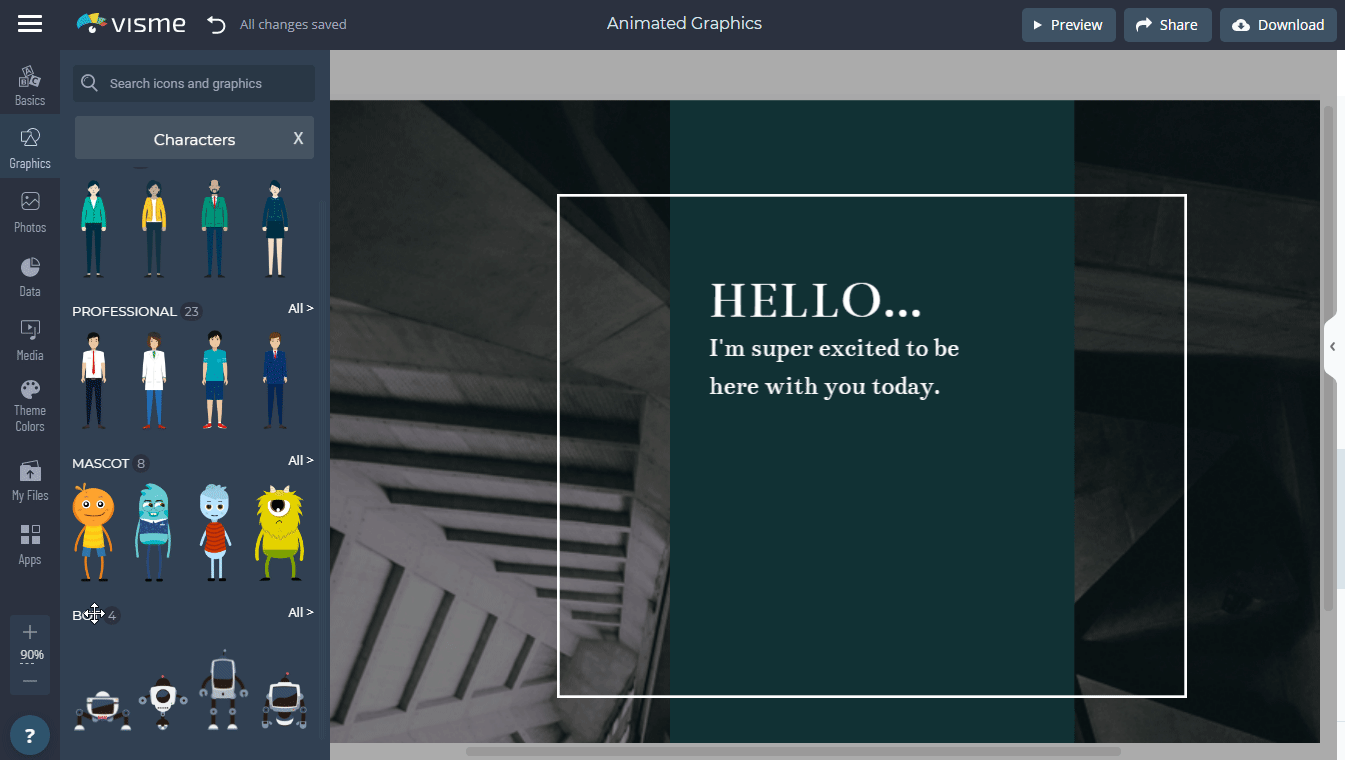 2. Split up the Content Onto Multiple Slides
We recommend using one piece of information on a single slide. If you're talking about two or more topics, divide the topics into different slides to make your slides easily digestible and less daunting. The less information on each slide, the more your audience is likely to read.
3. Put Key Message Into the Heading
Use the slide headings of your presentation as a summary message. Think about the one key point you want the audience to take from each slide. And make the header short and impactful. This will ensure that your audience gets the main points immediately.
For example, you may have a statistic you want to really get across to your audience. Include that number in your heading so that it's the first point your audience reads.
But what if that statistic changes? Having to manually go back and update the number throughout your research presentation can be time-consuming. With Visme's Dynamic Fields feature, updating important information throughout your presentation is a breeze. Take advantage of Dynamic Fields to ensure your data and research information is  always up to date and accurate.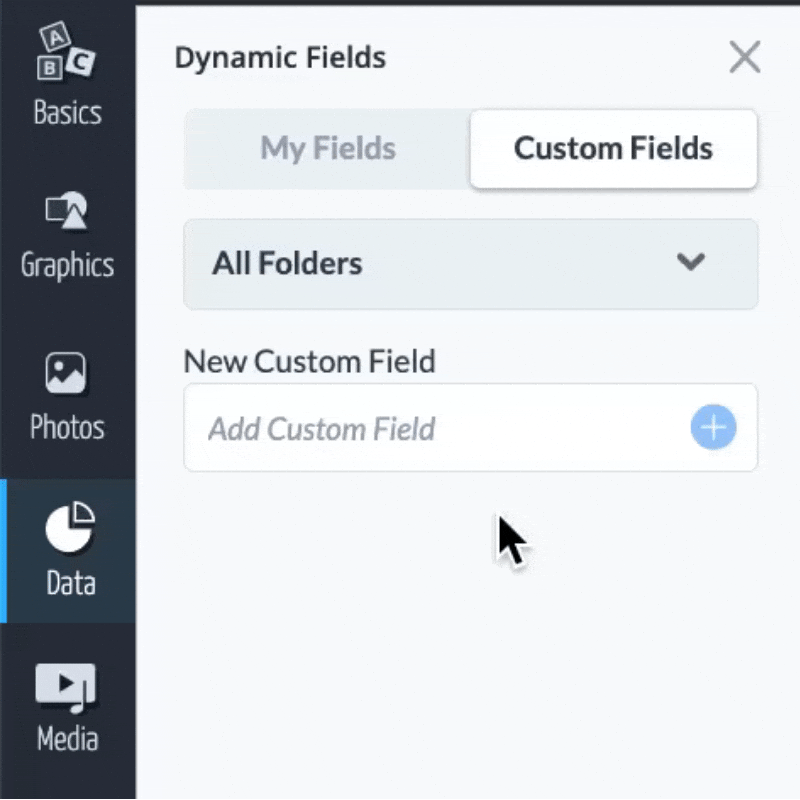 4. Visualize Data Instead of Writing Them
When adding facts and figures to your research presentation, harness the power of data visualization. Add interactive charts and graphs to take out most of the text. Text with visuals causes a faster and stronger reaction than words alone, making your presentation more memorable. However, your data visualization should be straightforward to help create a narrative that further builds connections between information.
Have a look at these data visualization examples for inspiration. And here's an infographic explaining data visualization best practices.
Visme comes with a wide variety of charts and graphs templates you can use in your presentation.
5. Use Presenter Notes
Visme's Presenter Studio comes with a presenter notes feature that can help you keep your slides succinct. Use it to pull out any additional text that the audience needs to understand the content.
View your notes for each slide in the left sidebar of the presentation software to help you stay focused and on message throughout your presentation.
Explain Your Research
Since you're preparing a research presentation, use more slides to explain the research papers you directly contributed to. Sometimes people spend nearly all of the presentation going over the existing research and giving background information on the particular case.
Your audience is there to learn about your new and exciting research, not to hear a summary of old work. So, if you create 20 slides for the presentation, spend at least 15 slides explaining your research. However, don't try to include the words in the slide that you'll present.
Learn more about how to give a good presentation. This will help you explain your research more effectively.
Follow Presentation Design Best Practices
A study shows that 91% of presenters feel more confident when presenting a well-designed slide deck. So, let's move on to the design part of your research presentation to boost your confidence.
1. Create a Stunning Background
The background of each presentation slide is a crucial design element for your presentation. So choose the background carefully. Try not to use backgrounds that are distracting or make the text difficult to read.
Use simple backgrounds to make the slide aesthetically appealing. Always use the same background for the slides throughout the presentation. Look at these presentation background templates and examples to get inspired.
2. Use a Variety of Layouts
Slide after slide of the same layout makes your presentation repetitive and boring. Mixing up the layout of your slides can help you avoid this issue and keep your audience engaged.
The presentation template below has a wide variety of images, texts, icons and other elements to create an interesting layout for your presentation slides.
Have a look at these 29 best presentation templates for inspiration.
3. Use Colors Wisely
Colors play an essential role in designing your presentation slides, regardless of the type of presentation you're working with. However, if you're a non-designer, you might be unsure about about how to use colors in a presentation. So, here are some tips for you:
Use complementary colors to stay on the safe side.
Use a text color that contrasts with the background to make the text pop.
Use colors to emphasize a text or design element.
Keep colors simple — less is more.
Don't be discouraged if you still find it difficult to choose colors for your presentation. All the presentation templates in Visme come with perfect color combinations to get the job done for you. Below is an example.
4. Use Fonts Hierarchy
Fonts are another design element that can make or break the design of your research presentation. If you struggle a lot while choosing fonts for a presentation, you aren't alone. Here are some tips that you can follow:
Try not to use smaller fonts that make your text difficult to read.
Use different font sizes for headings and body text. For example, you can use 20 points for the body text, 24 for the subheadings and 40 for the title.
Learn about font pairing and use it in your design. For example, use sans-serif with serif fonts as they always go well together.
Use two or three fonts max—ideally two. One should be for the headlines and the other for the body text. Anything more than that can make your slides cluttered.
Handwritten fonts and script fonts may look tempting, but they are a big no. They could negatively affect the readability and legibility of your research presentation.
Here's a Visme presentation template designed with the points mentioned above in mind.
5. Include High-Resolution Images
Are there any images you can use in your slides to introduce or explain a topic? What could be better than that? As the saying goes, "A picture tells a thousand words." Use pictures to help your audience listen to you more efficiently while viewing the slides.
Pictures can also help you reduce the text clutter in the presentation, as long as they prompt you to make the points you need to make. If you can't find an image for your presentation, browse through Visme's high-resolution stock photo library. It features over 1,000,000 free stock photos.
Have a look at the presentation template below. It includes only high-resolution images, like all the presentation templates in Visme.
Below is a video of 13 presentation design tips to help you design a research presentation that your audience will love.
Prepare Your Research Presentation Using Visme
Designing presentation slides from scratch isn't easy, especially if you have no experience. Fortunately, Visme comes with hundreds of professional presentation templates crafted by expert designers that make the job easy for you. You don't need any design experience to create effective research presentations.
Choose from hundreds of beautifully designed presentation templates and customize them according to your needs using Visme's all-in-one presentation software. Anyone can use our powerful software to create stunning presentations in minutes.
Create a free account in Visme today and start creating your research presentation like an expert.
Samandishe (samandishe.com)