A project is not something that just comes together overnight. It often takes strategic planning and a significant amount of time to get it right and receive the support it needs to thrive.
To help put an external or internal project on the fast track for approval, it's important to successfully be able to present your ideas. And although a convincing elevator pitch may work in some circumstances, it's often not enough. This is where writing a project proposal comes in.
Read on to learn what a project proposal is and what it should include. We've also included templates and tips to help you create a winning project proposal.
Create

reports, proposals, ebooks

and more
Dozens of content types to choose from
Add your brand colors and fonts
Team collaboration available
Table of Contents
What Is a Project Proposal?
The Main Types of Project Proposals
The 6 Steps To Writing a Project Proposal
The Top 7 Tips for Writing a Project Proposal
10 Project Proposal Template Examples
Give Your Project Proposal an Upgrade Today
What Is a Project Proposal?
A project proposal is a document or set of documents that clearly communicates and defines your project and ideas.
Project proposals are used to tell the story of why a project idea should be executed and supported. They are typically created for the purpose of securing funding or buy-in, winning new clients, extending an existing client's contract or convincing someone to allocate resources to a new initiative.
It should establish what the project is, what you're aiming to achieve with it, how you plan on getting there and why it's worthwhile. It may also include a timeline, budget and other closely related aspects.
Essentially, a project proposal should not just be grabbing attention for the sake of it. It should grab attention with its clear, confident and congruent message.
As the project's foundation, project proposals are vital for creating clarity around the goals. They define the priorities and requirements of a project before and when a stakeholder gets involved.
Types of Project Proposals
There are different types of project proposals to choose from, depending on your proposal's audience and the type of proposal you're presenting. Here's a brief description of each of them.
Solicited Project Proposal
A solicited project proposal is sent in response to a Request for Proposal (RFP). An RFP is a document that gets sent to a qualified organization. It announces a project, describes it and asks for a bid.
RFPs are competitive and often put businesses up against top candidates. They come with highly specific directions and require thorough research and sharp persuasive writing skills.
Unsolicited Project Proposal
An unsolicited project proposal is just that — unsolicited. It's a bit like the cold call version of a proposal. In this situation, no one has asked for your proposal and there is no RFP involved. However, under the right circumstance, a well-executed unsolicited project proposal can be a game-changer.
A possible downside to unsolicited project proposals is not having clear knowledge of a stakeholder's needs.
Maybe you've identified a problem and the solution to it. While the opportunity presents itself, you need resources to bring your idea to life. This is when you might turn to an unsolicited project proposal.
Informal Project Proposal
In the case of an informal project proposal, a client may reach out with an informal request for a project proposal to be sent to them. Once completed, you can respond with your pitch.
However, because this isn't an official RFP, the rules aren't as well established. This means that this type of proposal most likely isn't going to come attached with much context. The writer will need to do a lot of solo research.
Renewal Project Proposal
A renewal is used when a project has run its course and needs to start again. The research that goes into this type of proposal typically stems from the success data of the last project.
In this project proposal format, the goal is to highlight ideal past results produced via the project. If the results are of worth, you should work to persuade the backer of the project of your capabilities to produce similar – or even better – future results.
Continuation Project Proposal
Continuations are usually done on a calendar basis when a project is entering a new phase or new resources are needed to ensure the project can continue. These proposals don't require as much work as the project has already been approved and is up and running.
Supplemental Project Proposal
Along the lines of a continuation proposal, a supplemental proposal is needed in situations where you may have gone over budget or need more resources than you originally requested.
Essentially, the project scope has grown beyond initial expectations. The goal of this proposal is to persuade the stakeholders to contribute more by proving the value of adding resources.
The 6 Steps To Writing a Project Proposal
The best way to write a project proposal is to follow a step-by-step plan, regardless of proposal type. How you write your project proposal can make or break its success.
Follow the steps below to make sure your proposal is a winner.
Step 1: Write the Executive Summary
Coming up with the executive summary is the first step to take when writing a project proposal. It's a relatively shorter section designed to give investors and stakeholders a brief overview of the most important information about the project. It should summarize what's coming and also persuade the reader to continue reading.
It often contains a short statement that addresses the main selling points of the project, such as:
The core problem your proposal aims to solve
Who will benefit and how
What resources are needed
A timeline and budget
How the success of the project will be measured
Return on investment (ROI) and more
The goal of an executive summary is to capture your audience's attention. It should get them excited and motivated about the project you're pitching and its potential impact.
Follow the executive summary tips below.
Step 2: Explain the Project Background
This section gives you the opportunity to go into the background of the project.
When putting together the project background, it's critical to explain the current state of the problem and why your audience should care about solving it. Using references and statistics in this section can be helpful in getting your point across effectively.
Some points to cover may include:
A deeper dive into the problem your project addresses
What's already known about the problem
Who has addressed the problem before
What research is out there already (if any) and
Why past research has been insufficient at fixing the problem.
The best practice is to keep this section no longer than one page.
Step 3: Present a Solution
Now that you've presented the problem, you must now present the solution. This section serves as a great opportunity to outline your project approach in more extensive detail.
Some of the key items to include are a vision statement, the project schedule and any important milestones. Also include project team roles and responsibilities, reporting tools to be used throughout the project and more.
This section is great for showcasing how you'll be measuring and reporting on your project's success. Give an overview of which metrics you'll watch and how you intend to display those results accurately.
Step 4: Define the Project Deliverables
Defining your project deliverables is a crucial step during the project proposal process. Stakeholders want to know just what it is you're going to be delivering to them at the end of the project. This could be a product, a program, an upgrade in technology or something similar.
When defining project deliverables, the stakeholders should easily be able to visualize your project and the end goal in mind.
Step 5: Request Your Needed Resources
Hopefully, by this point, you have convinced your reader that your project can't wait and needs to be implemented. Congratulations! But you're not out of the weeds yet.
Now is the time to share the pivotal details on:
The project budget. This involves everything from the supplies needed to create the project to ad pricing and team salaries.
A breakdown of the costs. This should cover why you need the specific resources you do. That way, stakeholders have a firm grasp on what their buy-in is being used for.
A resource allocation plan. It's important to include an overview of your resources being allocated and where they plan to be used. For instance, if you need $100,000 to complete your project, where will this money be going? Technology, materials, etc.?
Requesting resources can be tricky. So it's important to be clear on what you need, how much you need and most importantly, why you need it.
It's a good idea to save the required resources for the end of your project proposal, so you're not overwhelming anyone right away with requests. It's better they know first what their resources are actually going to provide and the objective at hand.
Step 6: State Your Conclusion
The conclusion section of a project proposal should give a final summary and brief review of all the points already discussed. This is your last chance to win over your audience. So make it count by ensuring it incorporates the absolute most important evidence in order to receive approval.
This serves as the closing moment to emphasize the impact of your project. Prove you have adequately researched all potential solutions and are positive your proposed method is the best way to go.
This section is typically dedicated to any additional graphs, charts, images or reports that were not already cited in the proposal. With Visme, you can bring your project proposals to life with interactive graphs and charts like the one below.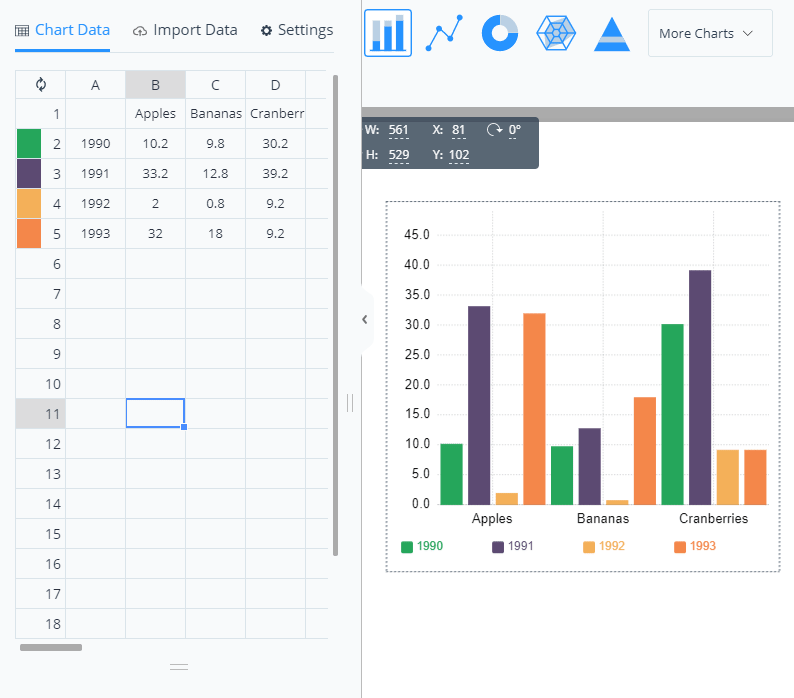 The Top 7 Tips for Writing a Project Proposal
No matter which proposal format you're working on, here are seven tips that apply as best practices for all.
1. Know Your Audience
It's important to keep your audience (i.e. the stakeholders) in mind while you write your proposal. Consider where they're coming from. Why should they give you funding? Will it have a direct impact on them? Knowing your audience can help increase your chances of winning your audience over.
2. Keep It Simple
Although a project proposal is often a hefty lift, that doesn't mean it needs to be overly complex. This means you can discuss the project plan, but you don't need to discuss every technical detail. It's also imperative to keep your writing style simple, clear and free of errors.
3. Be Persuasive
If your reader isn't intrigued by your project, it will be much harder to get them on board. To combat this, focus more on how it will benefit others and how it will positively impact your industry, rather than just sharing the features it will offer.
4. Do Your Research
A winning project proposal includes thorough research and knowing the ins and outs, backwards and forwards. Be sure you can back up your problem – and solution – with reputable sources via outlets such as case studies, customer testimonials, user analytics, statistics or charts.
5. Utilize the Smart Method When Setting Goals
When writing a project proposal, setting your project's objective and locking down the right goals should not be overlooked.
If you're running into roadblocks, consider implementing the SMART (Specific, Measurable, Attainable, Relevant, Time-bound) method. They help ensure your KPIs cover everything and every goal can be met effectively.
6. Include a Cover Letter and Table of Contents
Your project proposal should read like a book. Therefore it should come as no surprise that your proposal should also include a cover letter and a table of contents.
A cover letter, paired with a table of contents, makes for a great couple. When combined, they are a perfect way to help set your audience up mentally for what they're about to read.
7. Use a Template
In a lot of ways, project proposals are all about making the best impression possible. Establishing a proposal using a pre-built template can help keep everyone on the same (virtual) page. It also helps keep your template looking modern and visually eye-catching. When in doubt, use a template.
10 Project Proposal Template Examples
The amount of detail you choose to include in your project proposal can vary significantly, depending on the project itself and its scope. In some cases, a brief proposal may suffice, while in others, an extensive document spanning many pages may be a better fit.
No matter what amount of detail or length your project proposal needs to be, Visme has got you covered. We've got a variety of beautiful and customizable project proposal templates.
Take a look at some of Visme's top proposal template examples.
Example #1: Nonprofit Proposal Template
Share important information about your nonprofit organization using this adorable proposal template from Visme.
Example #2: Financial Proposal Template
Help boost your company's product sales with this straightforward project proposal template.
Example #3: Simple Business Proposal Template
Use this simple business proposal template from Visme to present your services, customer reviews and much more in front of your audience.
Example #4: Project Management Proposal Template
Share your business idea and win over clients using this project management proposal template.
Example #5: Corporate Proposal Template
Grab the attention of potential business partners with this professional, corporate proposal template from Visme.
Example #6: Partnership Proposal Template
Put your best foot forward when proposing a partnership with this attractive project proposal template.
Example #7: Purchasing Proposal Template
Show relevant stakeholders the features and rates of the resources you need for your business with this proposal template from Visme.
Example #8: Freelance Proposal Template
Design a compelling proposal for your freelance services with this professionally-designed project proposal template.
Example #9: Bid Proposal Template
Ensure that your next bid is the winning bid with this stunning project proposal template from Visme.
Example #10: One Page Proposal Template
Deliver your next project proposal with this one-page proposal's neat and attractive
appeal.
Didn't see what you were looking for? No problem. Visme has a large variety of proposal templates that are colorful, visual, attractive and simple to use.
Check out the rest of our project proposal templates in our fully stocked library.
Give Your Project Proposal an Upgrade Today
Make the best impression possible and get one step closer to your goal by using a visually striking and compelling professional proposal template from Visme.
Start creating your project proposal today with our free and easy-to-use tool.
Samandishe (samandishe.com)